Different types of strapping and their benefits
July 12, 2019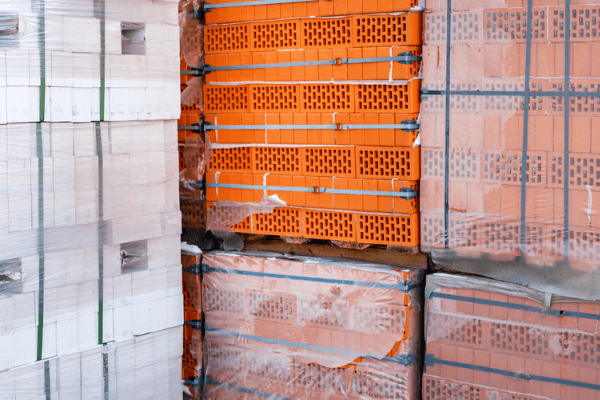 Strapping, also referred to as pallet wrapping, bundling or banding, is the process of applying a strap to bundle item(s) together. Strapping is used across many different industries and is commonly used when shipping large items to keep them contained while in transit. Strapping is used manually or with the aid of a strapping machine like a strapping dispenser or a sealless strapping tool.
Strapping comes in many different types and materials. When deciding which strapping to purchase it's important to consider things like what you will be using it for, and the weight of the load you will be strapping. If you're shipping large industrial items for example then you will need a more heavy duty type of strapping.
With a variety of different options available, it can be confusing when deciding which type of strapping is going to be the most suitable. We've covered some of the most common types of strapping and their benefits to help you make the best decision.
Steel Strapping
If it's heavy duty strapping that you're after, you can't go past steel strapping! Steel strapping is the strongest type of strapping available and is known for being robust so perfect for heavy loads and is particularly good for packaging and shipping industrial equipment or construction materials.
Benefits:
Extremely durable
Good for large loads
Good for heavy loads
Ideal for industrial items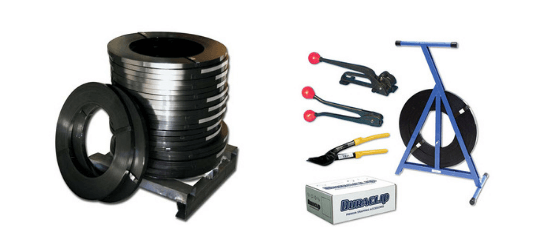 We stock a number of different types of steel strapping and accessories. You can take a look at our range here.
Polypropylene Strapping
Polypropylene strapping is one of the more popular types of strapping. It's an economical material designed for light to medium bundling which is available in various colours, widths and thicknesses. As it's light and versatile, it's ideal for sealing and securing lighter loads. With elastic properties, it's less likely to deform or corrode so suited for situations where loads or pallets may be stored for long amounts of time.
Benefits:
Economical
High level of elongation
Versatile
Ideal for light to medium loads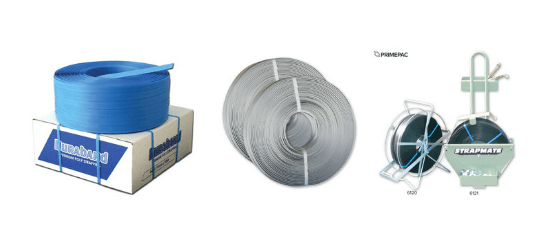 Check out our range of polypropylene strapping which includes hand strap, machine strap and UV resistant strap.
Polyester Strapping
Polyester strapping is the most commonly used strapping material. It's both strong and durable so a great alternative to steel strapping. Polyester strapping is ideal for packing loads that may shift during transit as it retains high tension for long periods and can easily be re-tensioned at any time.
Benefits:
Lightweight
Strong and durable
High levels of tension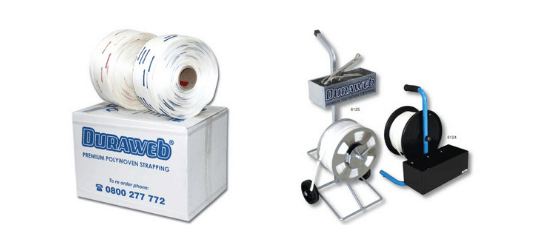 Our range of Duraweb woven polyester strapping is UV stabilised, lightweight and available in a range of different colours and sizes.
Corded Polyester Strapping
Corded polyester strapping is suitable for a wide range of applications and perfect for securing delicate products. It's light and very easy to work with and is best used with tensioners and sealers.
Benefits:
Suitable for different applications
Ideal for delicate items
Light and versatile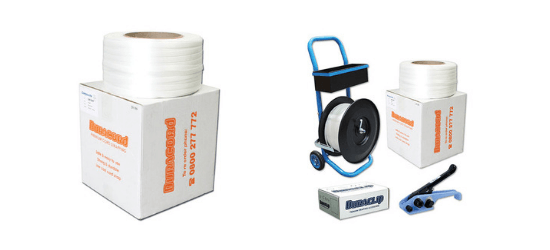 Take a look at our low-cost Duracord strap option here.
Polyethylene Strapping
With no sharp edges, polyethylene strapping (PET) is safer to apply and remove compared to a traditional strap like steel. It's strong, lightweight, shock resistant and easy to dispose of as it's 100% recyclable.
Benefits:
Safe to use
Strong and lightweight
Shock resistant
Recyclable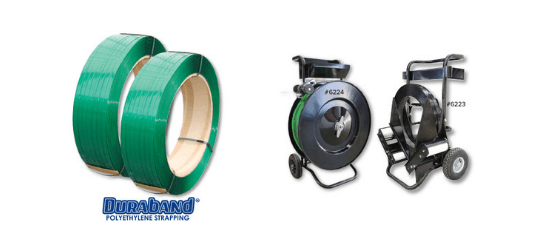 View the Duraband range of PET strapping here.
If you're still considering what type of strapping you should be using for your business contact us and we can help, or check out the video below for some helpful tips.
Interested in other industrial products for your business? You can take a look at the Primepac range here.