Warehouse floor marking – keeping people safe in your warehouse
February 17, 2019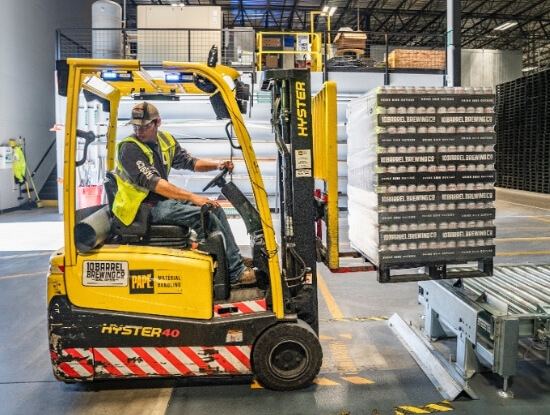 Floor markings – you see them in every warehouse and manufacturing facility. The implementation of floor markings allows employees and visitors to understand the use of a space and identify hazards that may be in the area, ultimately creating a safer and more efficient workplace.
According to WorkSafe NZ, 17% of surveyed manufacturing employees and 24% of employers reported serious harm or a serious accident in a 12 month period – many of these relating to clashes with people and machinery. Under the Health and Safety at Work Act 2015, businesses are obligated to identify potential risks in the workplace and put processes and measures in place to reduce the risk of injury or illness to the surrounding people. This is where effective floor markings can be used.
Start making your warehouse safer and more efficient with floor marking tapes. Browse the Primepac range here.
How can you use floor markings?
Not only can floor markings highlight certain areas in a warehouse, but they can also prevent slips and falls with anti-slip tapes. We'll list some of the ways you can use floor markings and anti-slip tape in your warehouse below.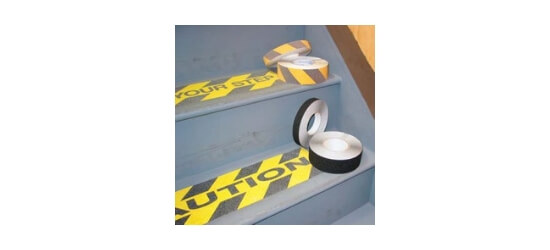 Place floor tape around the corners or edges of stacks to remind workers where a stack should be placed.
Use floor tape to mark aisles to help prevent workers from placing pallets or boxes in the way of people or vehicles.
Use floor tape to mark walkways for pedestrians, and other areas in which machinery like forklifts will be travelling through. Keeping people out of the way of machinery, and machinery away from people will help to create a safer work environment. This can also include pedestrian crossing points, so that employees using machinery know when to be more aware of pedestrians.
Use wall tape to mark the maximum height of a pile on the wall.
Use floor tape to mark designated loading and unloading areas. This will indicate safe areas for these activities to take place, and communicate to employees to keep these areas clear for these activities.
Identify designated reversing/turn-around areas. This can reduce the risk of collision with other vehicles and machinery.
Mark 'safe' areas for people where relevant – this includes when in the vicinity of operating machinery and vehicles.
Marking traffic flow throughout the warehouse, particularly in one-way areas.
Use anti-slip tape on any steps, and on the edge of loading docks, ramps etc.
Alert people to hazardous areas, or areas that need to be avoided.
Highlight areas that portable tools and equipment need to be returned to.
Highlight other areas that must be kept clear at all times.
Alert people to warehouse exits.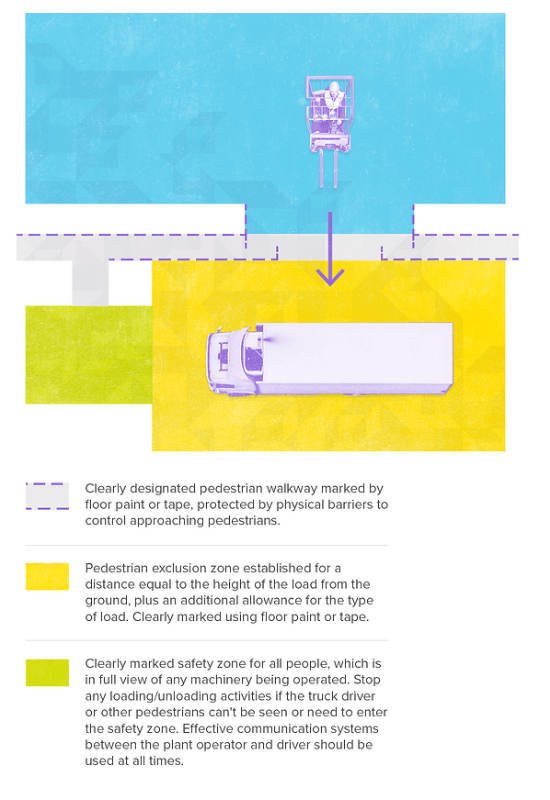 While every workplace will be different depending on the layout of the warehouse and the activities being undertaken, the list above will provide you with a good start in setting up effective floor marking.
What can you do to get started?
The General Guide for Workplace Traffic Management recommends utilising the following four steps to setting up effective traffic management and floor markings in your warehouse.
Identify hazards: consider and observe any machinery, heavy objects, heights, slipping hazards etc. that may be present in your warehouse. It also pays to discuss with your team what they've found to be hazardous in the workplace, and review incident reports to see if any near misses or injuries could be better prevented with effective floor markings.
Assess risks: once you've identified the hazards, you'll need to assess how much risk these present to your team. It's important to address the hazards that present the highest risk first, and then work your way down the list to the hazard that presents the least amount of risk. Remember, even if a hazard presents as a low risk it is still worthwhile to address this to prevent potential injuries.
Control risks: this involves either removing or minimising the identified risks. Risks should be removed where possible, but where this isn't possible warehouses need to introduce measures to reduce the risk. This can include substituting a hazard, isolating a hazard, or controlling the hazard as much as possible.
Review control measures: it's important to continuously review how effective your risk control measures are, and make any necessary changes to ensure they continue to be effective (or make them more effective). This may include consultation with your team.
Which materials are best for warehouse floor markings?
Once you've identified your hazards and any other areas that could benefit from the use of floor markings, you can go about planning these markings within your warehouse. Choose from either line marking paint or floor marking tapes – tapes have been widely adopted as a preferable marking method due to no fumes or dry times, easy ability to create straight lines, minimal interruption to work, and ease of application and removal if necessary. A widely accepted guideline for floor marking colours can be found in the image below.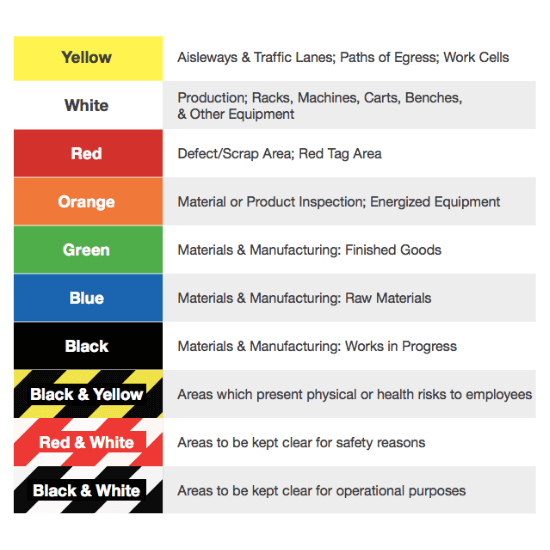 So now you have a basic guideline on how you can keep your warehouse safe and efficient by using effective floor markings. You can get started in your warehouse by browsing the range of Primepac's floor marking tapes here.