Which disposable gloves are best for me?
March 28, 2019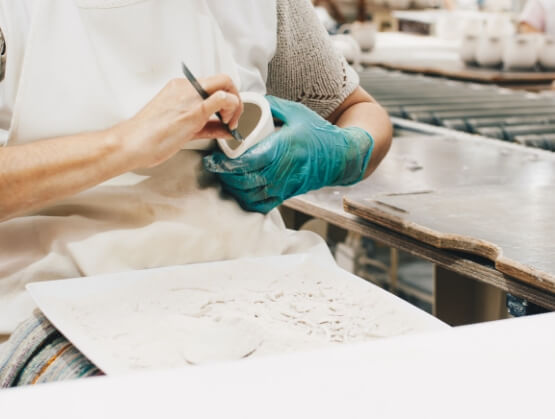 Disposable gloves are such a common sight that they almost go unseen. They're an important tool in industries across New Zealand, being used in industries from food preparation, garages, domestic services, hygiene and healthcare. In essence, they're nothing more than a simple and effective barrier in material handling. Dive deeper and their use is a huge step forward in limiting contamination, sickness and increasing employee safety.
Materials like vinyl, latex, nitrile and polyethylene are popular choices for disposable gloves, but careful consideration also needs to be placed in thickness, colour and levels of grip offered. The wide variety of choice in disposable gloves is only matched by the myriad of applications. It's this wide array of choice that has led us to create a small explainer of Primepac's range of options, and the main differences between them.
In this article we'll cover some popular gloves and their uses, so you can make the right decision and choose the best gloves for you.
Vinyl Gloves
Vinyl gloves have long been popular in the food industry. Their thin material is best suited to delicate work where sensitivity in touch is valued and the risk of puncture is minimal. The bright blue colouring also suits food service industries as the blue is usually a stark contrast to the colours of the food, which enables broken pieces of the glove to be easily located and removed.
Vinyl gloves are not very stretchy, so ensure the correct sizes are purchased to reduce slippage from smaller hands, or unnecessary restriction in large hands.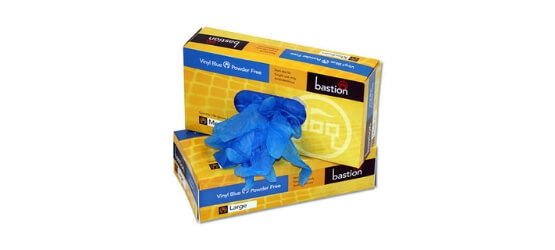 Uses: Vinyl gloves are perfect for food preparation and catering. Great for frequent glove changes to reduce contamination.
Benefits: Latex free and have a looser fit. Good for short-term, low risk tasks. Are the most economic option.
Industries: Foodservice, cleaning, restaurants, light industrial.
Primepac stock a range of vinyl gloves at different price-points, including blue vinyl gloves which are perfect for large scale food operations.
Latex Gloves
Latex gloves are produced from raw latex, tapped from rubber trees. Highly comfortable, these gloves fit like a second skin and can be worn for extended amounts of time making them popular for medical and cosmetic use. Relatively cost-effective, the only downside is that they aren't suitable for anyone that has a latex allergy.
Latex gloves are mostly used in industries where prolonged and highly tactile work is required. Their close fit to the hand means there are no bulges, folds or loose bits of glove to get in the way. They are slightly more durable than vinyl gloves which means they can be worn for several hours. Latex gloves provide an effective barrier against irritant substances such as bleaches, dyes and chemicals. Whereas loose-fitting gloves offer an opportunity for liquids to slip within the glove, latex gloves form a barrier at the wrist which eliminates this risk.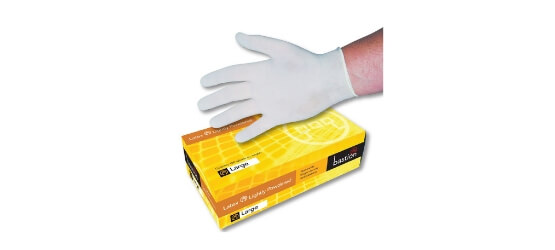 Uses: Latex gloves are most suited to carers, tattooists, hair dressers and anyone that works in a medical profession.
Benefits: Very elastic, strong and comfortable. High level of touch sensitivity. Can be worn for long amounts of time.
Industries: Beauty, cosmetics, food preparation, healthcare, hygiene, laboratory, medical.
View the range of latex gloves available from Primepac.
Nitrile Gloves
Made from a mixture of man-made compounds, nitrile gloves offer less risk of allergic reactions than most other gloves. Extremely flexible, stretchy and offering great dexterity, nitrile gloves are superior when it comes to puncture resistance. They are the preferred glove of dentists, mechanics and, more recently, hairdressers.
Nitrile gloves come in powder-free variants and also highly cut-resistant versions. These attributes make them ideal for industries where sharp objects are an ever-present risk and often find practical use in food cutting/prep areas, garages and workshops.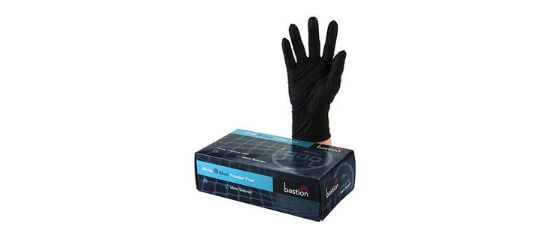 Uses: Most used by those in medical professions as well as hairdressers, tattooists, mechanics and people working in the food industry.
Benefits: Latex-free and puncture resistant, nitrile gloves also mold to your hands for a great fit. Can be worn for an extended amount of time. Work well for high-risk situations involving infectious material.
Industries: Workshops, garages, heavy industrial, meat processing, animal handling.
Browse the range available from Primepac and choose from heavy duty black nitrile to gecko nitrile gloves.
Polyethylene Gloves
Polyethylene gloves are the most economical glove you can buy, and are most often used for light duty tasks that require frequent glove changes. This glove has a loose fit design for easy on and off applications, and is especially useful for the food industry. Lightweight, the also come in two different colours – clear and blue.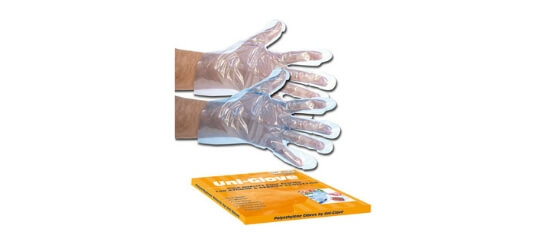 Uses: Food preparation and catering.
Benefits: Economical, lightweight and loose fitting.
Industries: Food handling, beauty.
Take a look at PE disposable gloves on Primepac.
Interested in taking a look at the full range of disposable gloves from Primepac? View the range here.