The Primepac Team and Daffodil Day!
Featured news
October 2, 2018
The Primepac team had a great time taking part in the nationwide Cancer Society Daffodil Day at the end of August. Since 1990, this iconic event has inspired people to come together and support the Cancer Society's work. It also provides an excellent opportunity to raise awareness of cancer in New Zealand. Money raised for the Cancer Society goes towards vital scientific research into the causes and treatment of all types of cancer, as well as providing a wide range of support services, education and awareness campaigns for people affected by cancer in across the country. With 1 in 3 New Zealanders being affected by cancer in some way, the Primepac team felt it was important to get involved in this event.
Primepac team "fancy dress"
To raise awareness for this meaningful day and celebrate the beginning of Spring, the Primepac staff held an "all yellow" dress up competition. We had all kinds of yellow costumes in our Timaru and Auckland branches, from wigs and tutus to pants and shoes made of yellow tape! It was an excellent way to raise awareness for all the awesome work the Cancer Society does, and helped our street collection teams get in the Daffodil Day spirit!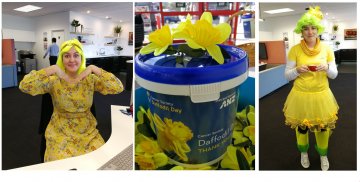 Above: Jess (left) and Steph (right) taking part in our Primepac Office dress up day
Daffodil Day Street Collection
On the 31st August our Primepac staff took part in the nationwide street collection both in Auckland and Timaru. It was awesome to see all the other collectors out on the streets and all the smiling faces and donations from so many generous kiwis. The Cancer Society reported that over 12,000 collectors took part in the day and it was one of their most successful years yet! Check out some photos of the Primepac team below…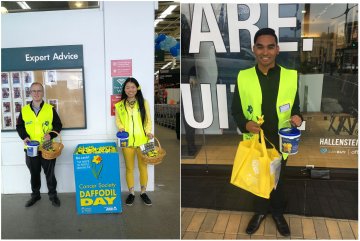 Above: Caleb, Jane and Willy taking part in the nationwide street collection