Primepac has a new range of stationery products for your office!
Featured news
February 13, 2019
Stationery is a necessity in almost every work place. Having the correct stationery products and using them effectively can make your work space much more organised, efficient and tidy – allowing your staff to be more successful in their day to day tasks. Primepac has recently added to its range of stationery products, to include more filing options, notebooks, packing knives & box cutters, and pens & highlighters. Click here to view our range of stationary products, or read on to find out more about some the new products on offer!
Filing Products
Filing documents effectively can have many advantages in a workplace. Some of these benefits include keeping your office tidy, increasing office space, and saving time searching for files that could be spent on more productive tasks. Primepac has recently expanded its' range of filing products to include the products below:
The Office-In-A-Box Plastic Filing Box is a portable plastic box, designed to hold a large number of suspension files. These boxes make it easy for you to transport all your documents, keeping them organized and protected from the elements whilst you are carrying your documents around.
Our PE Box Files are more suitable for in-office document storage. These have a handy case hole, which means you can easily pull them down off a shelf. This product is light and easy to carry but very tough at the same time. If you drop your files you don't have to worry about your papers falling out, as there is a handy clip to hold them in place.
Our new range of Ringbinders and Folder Dividers offer a simple and affordable way to store your notes, so you can keep your paperwork organised and locate your documents quickly and easily. Choose from folder dividers of 5, 10, or 20 tabs and in a range of various colours. Our ringbinders come in either green or orange, so you can use different coloured folders for different purposes.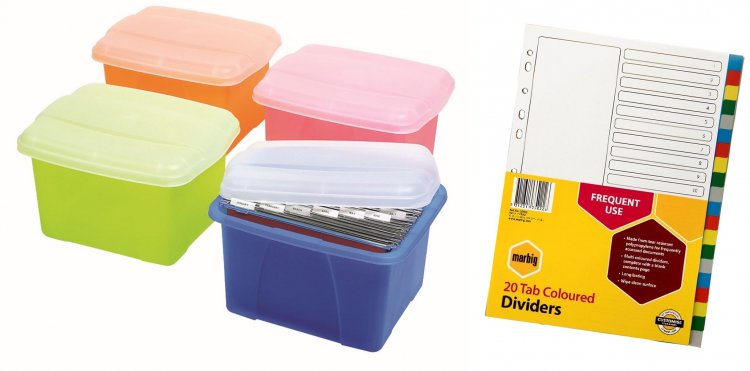 Pens & Highlighters
Pens and highlighters may seem like a simple stationary item, but research shows that when used effectively, colours in text and writing have many benefits. Below are some options to consider:
Artline Supreme Highlighters come in a pack of 4 assorted colours and are ideal for office use. Now that you have a number of options to store your documents in, you can organise these even more by using highlighters to connect important ideas, make heavy-text documents easier to read, and easier to review later on.
Artline Fineline Pens are also a good addition to your stationery collection. These come in a range of colours and with a fine tip and instant drying ink, to keep your writing neat and tidy.
If you need to do some brainstorming with your team, Primepac has also introduced some new white board markers to its stationary range. The Artline White Board Markers come in a handy value pack with 4 diferent colours. Or if you are looking for a more sustainable option, the Artline eco-friendly markers with chisel nibs are made from 78% recycled material. These also come in a pack of 4 assorted colours.
Click here to read more about ways you can use colour to organise your office
Packing Knives & Box Cutters
Packing Knives and cutters are another good item to have on hand in your office, warehouse, or factory. Opening boxes and cutting materials are common tasks in many workplaces, so it will save a lot of time if you have these tools easily accessible to staff. It is also important to ensure your staff have the correct cutters, to prevent damage to goods and themselves.
The new range of Sterling Safety Box Cutters are all designed for a specific application, such as cutting pallet wrap and/or tape, opening cartons, cutting shrink wrap etc. They all have added safety features such as the Sterling Safety Slitter (product code 1438) which has an ergonomic slitter with finger hole to prevent slipping, or the Sterling Klever Type Safe Edge Cutter (product code 1451) with a unique shape that prevents damage to carton contents.
The Sterling Packing Knives are also each designed for specific applications, with different blade designs and strengths suitable for the cutting or slicing of various types of materials. All of these knifes also have improved safety technology, such automatic blade retracting systems, superior grip handles and other features to reduce the likeliness of injury.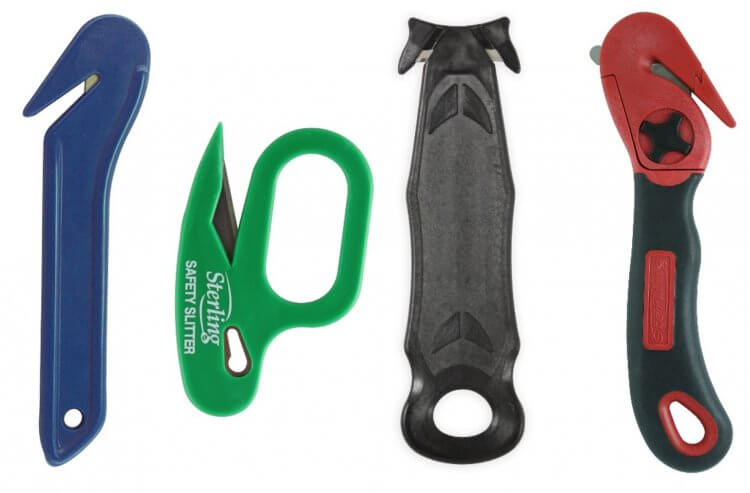 As discussed in this article, using the correct stationery products in your workplace can make a massive difference to the efficiency and effectiveness of your team. Primepac offers a wide range of stationary products that are all available to view and order on our website.
Click here to browse the entire range of stationery items