Proud Sponsors of the Auckland Rescue Helicopter Trust
Featured news
August 6, 2018
We are proud to announce that Primepac is an ARHT Corporate Sponsor for the fourth year running! The Auckland Rescue Helicopter Trust has been providing rescue services for 40 years to the greater Auckland region. These services, which operate 24 hours a day, 365 days a year have been life saving for many kiwi families.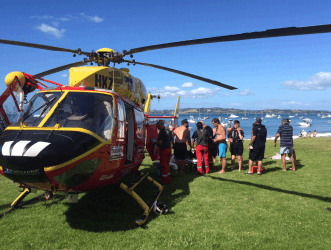 Why the ARHT services are vital
The Auckland Rescue Helicopter Trust provides a professional, efficient, emergency air ambulance, search and rescue service. It is staffed full-time by a highly experienced flight crew consisting of pilots, paramedics and crewmen. ARTH is strategically placed to respond to a wide variety of environments – from farming accidents to fishing incidents, the team are quickly on the scene.
ARHT is not government funded, and therefore relies heavily on the community and volunteers to keep their missions going. Even one ARHT mission could mean the world of difference to a kiwi family, which is why Primepac, we are thrilled to sponsor a mission for the fourth year running.
To find out more about the amazing work that ARHT does every day, you can visit their website by clicking here.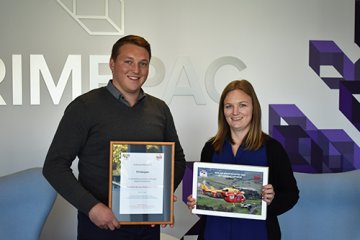 Pictured above: Charlie Boakes (Primepac National Sales Manager) and Aimee Johnston (Primepac Marketing Manager) with the Primepac ARHT Corporate Sponsor Certificates.