Use 55% Less Pallet Wrap with Eco-Friendly Ultiwrap
Featured news
November 6, 2018
Primepac has recently added UltiWrap Machine Wrap and Hand Stretchwrap to its' range of pallet wrap supplies. This new wrap has multi-layer thin film technology, allowing you to use less wrap per pallet. Key features of our Ultiwrap include:
Improved resin technology
Increased film stretch, with increased load containment
Better puncture resistance
Multi-layer Nano technology
All of these product features result in significant cost savings and a reduced environmental footprint for your business!

Use up to 55% less wrap and reduce costs
Our tests consistently show pallet wrap savings of around 55%, without risking pallet security. The increased puncture resistance and multi-layer technology means Ultiwrap can be stretched further and you can wrap almost twice as many pallets compared to regular film! Not only does this mean you will reduce your pallet wrap use, but your business could also avoid over-wrapping goods and using more pallet wrap than needed. Using 55% less pallet wrap also means your businesses wrap costs will reduce significantly.
If you would like to know more about how much pallet wrap your business can save, click here to request a free wrap consultation from one of our pallet wrap specialists.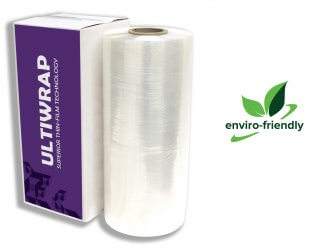 The environmental benefits of Ultiwrap
Another huge benefit of Ultiwrap Pallet Wrap is the reduced environmental impact that comes with using half the amount of wrap. Packaging (including pallet wrap) is a significant contributor to waste in our landfills, with around 353 thousand tonnes going to NZ landfills each year. Whilst the Packaging Council is working on ways to reduce and recycle packaging waste, we must all play our part to make a difference. Reducing waste is one of the first things your business can do to help, so using less pallet wrap and recycling when you can should become a priority if your business is trying to become environmentally friendly. Ultiwrap is not only cost-effective but also 100% recyclable and there are a number of waste collection companies and plastic recyclers that will work with industrial and retail businesses to recycle clean plastic waste. Click here to see some of the companies that may be able to help with your recycling.
It is clear that Ultiwrap is an easy and cost-efficient way to for your business to reduce its carbon footprint and take a step in the right direction of environmental sustainability. Making the move from regular pallet wrap to Ultiwrap is a bit of a no brainer really!
To see our Ultiwrap Pallet Wrap in action, click on the image below to watch our Ultiwrap video