We were at the Foodtech Packtech Show
Featured news
October 10, 2018
About the Show:
Running Strong for over 20 years, Foodtech Packtech is New Zealand's largest food manufacturing, packaging and processing technology trade show. This year the event was held at the ASB Showgrounds in Auckland from 17th to 19th of September. Over 250 local and international companies entered exhibitions into the show and more than 4,500 visitors registered their attendance prior to the event.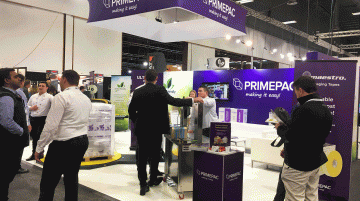 Our Exhibit
The team at Primepac felt this event would be an excellent opportunity to showcase our new range of products and packaging solutions for the food and beverage industry. We found the show to be very successful, giving us the opportunity to talk to both current and new customers – answering their questions and gaining insight into the things they want more of.
Eco-Friendly Products
Primepac recognizes the importance of environmental sustainability and we are working hard to provide our customers with eco-friendly alternatives to traditional packaging supplies. The Primepac exhibition therefore placed a particular focus on our new range of eco-friendly products and Ulti-Wrap Pallet Wrap. The below products were displayed at our stall:
Eco-friendly products – Our new environmentally friendly products are made from either recycled plastic, degradable, or compostable material. These come in a range of bag options and cafeteria supplies (plates, cups and cutlery). Using products such as these can help reduce the amount of packaging waste that ends up in our landfills, or our oceans. Click here if you would like to read more about this range.
UltiWrap Pallet Wrap – This pallet wrap can be purchased as a machine wrap or hand wrap and uses super thin film technology – increasing wrap efficiency and resulting in up to 55% less pallet wrap being used! For more information on this product, you can watch our Ultiwrap video here.
Overall, Primepac enjoyed exhibiting at the Foodtech Packtech Show and meeting both current and new customers. We were able to gain insight into what our customers want more of and are excited to take this on board and continue to improve our services!
If you'd like to take a look at our Primepac Stall, click here to watch our video.